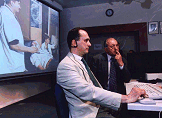 On 15 June 1999 CARNet held a presentation of results of its pilot project entitled Telemedicine in Heart Electrostimulation (TelESS). At the occasion the world's first remote adjustment of a patient's heart electrostimulator was conducted over the Internet.
The presentation of CARNet's TelESS project held at the Faculty of Electrical Engineering and Computer Science of the University of Zagreb included remote adjustment of a patient's heart electrostimulator over the Internet. During the procedure the patient whose heart electrostimulator was being adjusted was located at Zagreb's Medical School, while all those invited were allowed to follow the procedure via a videoconferencing system.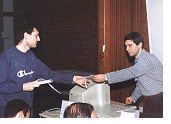 From 25 to 29 January 1999 the first course for CARNet's future lecturers of Internet courses was held as part of its Training the Trainers program.
The main aim of this program is to hold courses for end users at a maximum number of member institutions of CARNet. For this purpose, as many trainers as possible need to be educated, enabling them to hold courses dealing with Internet technology. With the support of their parent institutions and the help of CARNet and SRCE, they will hold courses on Internet technologies for end users in their own working environment.
The first so-called CARNet Week was held from 15 to 22 October 1998 at the Faculty of Food Processing and Biotechnology of the University of Zagreb.
Through this project, the Croatian Academic Research Network, CARNet, wishes to stimulate students, professors and other staff of its member institutions to make good use of the services and possibilities offered by CARNet and the Internet.
As its first phase is aimed at Croatian universities, the project was started at the Faculty of Mining, Geology and Petroleum Engineering and the Faculty of Food Processing and Biotechnology, targeting lecturers and students alike.