At this year's International Information Technology Fair INFO'98, the Croatian Academic Research Network CARNet demonstrated to its visitors the use of videoconferencing and other multimedia networking applications by linking up CARNet's four locations: the University Computing Centre (SRCE), the National and University Library (NSK), and the Faculty of Electrical Engineering and Computer Science (FER) in Zagreb, and the Faculty of Electrical, Mechanical and Naval Engineering (FESB) in Split.
Visitors were free to use videoconferencing services on various computer systems with different programme solutions. A press conference was organized on the first day of the Fair, at which Mr. Predrag Pale, M.Sc., Deputy Minister for Science and Technology for Information Technology, and Ms. Jasenka Gojsic Director of CARNet, discussed the current state of CARNet's videoconferencing system, its areas of application and future developments. Throughout the Fair, renowned Internet specialists gave talks at CARNet's presentation stand. Also, the Symposium on "Telemedicine in Croatia" was transmitted live.
Besides videoconferencing, CARNet also presented the following Video on Demand services:
CARNet promotional film
documentary on Cardinal Alojzije Stepinac
animated films by Zagreb Film
Croatian National Team goals at the World Soccer Championships in France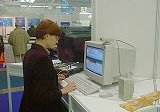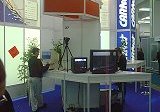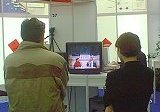 Additional information on CARNet's presentation at INFO'98 can be found at the event's official pages at http://www.CARNet.hr/info98.