From 25 to 29 January 1999 the first course for CARNet's future lecturers of Internet courses was held as part of its Training the Trainers program.
Starting in the autumn of 1994, the Croatian Academic Research Network (CARNet) and the University Computing Centre (SRCE) have been educating their end users through a number of courses. But the courses held only in a handful of locations in Croatia were no satisfactory long-term solution. In spite of the growing number of organized courses and the explicit satisfaction of their participants, the demand and the need for such courses by far outgrow the possibilities of CARNet and SRCE. Thus, they established a joint program for the education of lecturers of Internet courses for end users named Training the Trainers (TtT).
The main aim of this program is to hold courses for end users at a maximum number of member institutions of CARNet. For this purpose, as many trainers as possible need to be educated, enabling them to hold courses dealing with Internet technology. With the support of their parent institutions and the help of CARNet and SRCE, they will hold courses on Internet technologies for end users in their own working environment.
Damir Kovaček, D.Sc., Faculty of Food Processing and Biotechnology:

This course was well organized and held in a professional manner. The lectures and workshops were conceived in a manner to teach us how best to transfer knowledge and experience in the use of modern information technologies to our academic environments.

As the course was held in a pleasant and relaxed atmosphere, we were given a chance to get to know each other and exchange our own knowledge and experiences. I believe that through this TtT course CARNet and SRCE made a significant step towards reaching their end users.

Ivana Pezelj, CARNet, Split:

I am very satisfied with the course and I consider it most useful for the training of future trainers. The lectures gave a systematic overview of various fields of knowledge, giving even more information than is directly needed for the training of end users. With practical advice for future trainers, the courses broaden their general knowledge.




The first course for future trainers was held from 25 to 29 January 1999. It was attended by 16 participants (12 from Zagreb, 2 from Rijeka and one each from Split and Osijek), who were chosen from among 60 applicants.
The course consisted of a total of forty hours of lectures, workshops and presentations. The lectures were devised to offer the participants a brief overview and systematization of the knowledge necessary for holding CARNet courses concerned with Internet technologies.
The courses introduced the participants to basics of the Unix and Windows NT operating systems, as well as elementary knowledge of Internet tools and services - including special mention of WWW, listserver and Usenet, and foundations of system security and cryptography. Each participant received supplemental printed materials.
At mid-day brief presentations and lectures on the topic of new Internet technologies (such as videoconferencing, HTML 4.0, etc.) were held, and visits and discussions about CARNet itself were organized. The working day would end with workshops in which participants practiced the art of holding presentations.
After having taken the course, in order to receive a diploma acknowledging their status as CARNet trainers, the course participants have to hold one of the regular courses at the University Computing Centre. After this, they are certified to hold CARNet courses at their own institution (as well as others, in agreement with CARNet). CARNet and SRCE jointly secure support to their new trainers through a special Web service, a mailing list and a helpdesk. Also, sporadically meetings and professional lectures will be organized for the CARNet trainers.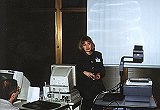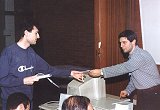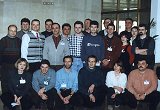 Participants of the first TtT course were as follows: Mladen Glasner (FKIT), Vera Gradisnik (Faculty of Hotel Management, Opatija), Igor Hitrec (Faculty of Agriculture), Ivo Ipsic (Faculty of Philosophy, Rijeka), Damir Jezek (Faculty of Food Processing and Biotechnology), Jasna Klancir (Ministry of Science and Technology), Darko Katovic (Faculty of Sports and Physical Education), Silvio Klaic (Faculty of Natural Sciences and Mathematics, Department of Mathematics), Damir Kovacek (Faculty of Food Processing and Biotechnology), Aron Margetic (Faculty of Natural Sciences and Mathematics, Department of Mathematics), Zlatko Papes (Faculty of Medicine), Leo Pavicic (Faculty of Sports and Physical Education), Ivana Pezelj (CARNet, Split), Zdravko Rasic (Faculty of Law, Osijek), Ljubimko Simicic (Faculty of Natural Sciences and Mathematics, Department of Physics), Mario Soljan (Faculty of Dental Medicine).
The following persons made up the Training the Trainers team which organized and held the first course for future CARNet trainers: Miroslav Milinovic, Lidija Filipcic, Mladen Vedris, Albert Novak, Denis Stancer and Vladimir Braus.
The next course for CARNet trainers will be held from 15 to 19 March. Further information about the course is available at http://www.carnet.hr/TtT.